As I was waiting for maariv to start at the local Chabad shteeble, I leafed through one of their chassidus publications.
In the obviously nicely sponsored magazine, the Baal Shem Tov explained the difference between mussar and chassidus. He likened it to a burglar that wanted to steal something. The baal mussar screamed: "You are a filthy thief!" and scared him away. The chassid held the thief so strong to his chest that he wouldn't leave anymore.
Kach hee darkah shel Torah: These are also the two ways Orthodox Judaism deals with people on the fringe: either they are being castigated and chased out of the camp, or they are being blackmailed emotionally and thus choked until they wants no freedom no more.
Meditate on that!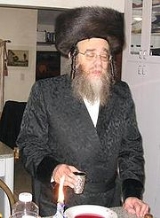 Another thought as I was saying "Atta chonantanu" during the evening prayers:
Blessed are You LORD our God, King of the universe, who distinguishes between the holy and the profane, between light and darkness, between Israel and the nations, between the seventh day and the six days of work. Blessed are You, LORD, who distinguishes between the holy and the profane.
Note how there is this continuous contrast: between holy and profane, between light and darkness and Shabbat and the weekdays. Likewise, Israel is compared to
light
and the nations (read: non-Jews) to
darkness
.
Now let the kiruv clowns meditate on that!